How you should read the Google Search Console data
Today we focus on the Google Search Console performance report. The Search Console Performance Report is a beautiful tool that allows us to get some interesting information. However, if you are interested in understanding how to correctly interpret the data, read this post completely.
Your website in ready, but now you would like to check how it is going. Can you do it yourself? Yes. Ask to your webmaster to give you access to the Search console.
Types of data
Before start, it must be premised that there are essentially two types of data. One, called metrics, basically indicates a reference quantity and time to which this quantity refers. The other, called dimensions, indicates who did what or where it happened.
The metrics are divided into:
Impressions, indicates the number of times a user has seen a link that leads to your site in the search results
Clicks, indicates the number of times a user clicked to visit your site
Average CTR, is obtained by dividing the number of clicks by the percentage of impressions
Average position, indicates the average position of your site in the search results, calculated based on the highest position of the site every time it has been shown in the search results
The dimensions are divided into:
Query, list of words (strings) searched by users on Google
Pages, list of pages clicked by a user (in the case of double pages only one page will be displayed, the one that has been defined as canonical. But this is not your problem because your webmaster will have set it up correctly for you).
Countries, list of countries from which site searches originate
Devices, the type of device used (desktop / tablet / smartphone)
Aspect of the search, leave the analysis of this section to your webmaster (in the case of features in SERPs such as multimedia results or AMP pages)
Dates, in case you want to sort chronologically
As soon as we click on the performance button, which you will find in the right side menu, the performance ratio will be displayed. Without touching anything, we see that by default the graph shows the trend of total clicks and web search impressions over the last 3 months. We immediately notice that by clicking on "average CTR" and "average position" we can easily add these metrics to the graph and table below.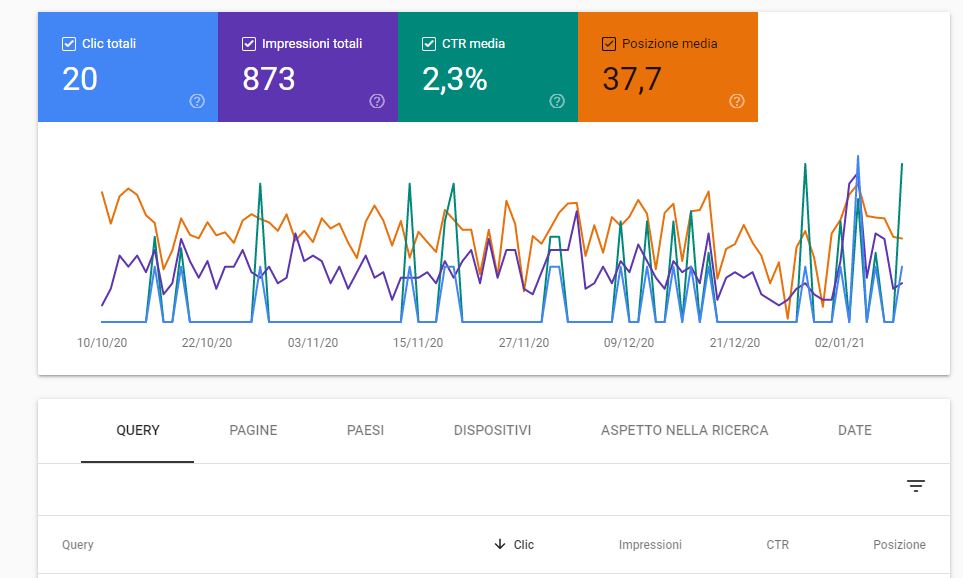 Pay attention. If you have just created the site you will have to wait a few days before viewing any data.
Google Search Console – Data analisys
Here, there is the first problem. These data refer to the entirety of your keywords. In the below exampe, you can see a low CTR (109/26102) * 100 = 0.4% because one keyword was searched a lot in the analyzed period. I'll explain. If your company is called Montalbano and in the period analyzed a beautiful film about Inspector Montalbano was released, which was reviewed a lot on the internet, the impressions will be high, but the clicks to your site are very low, so you will get a low CTR. So it will be wrong CTR. So pay attention to how you read the data!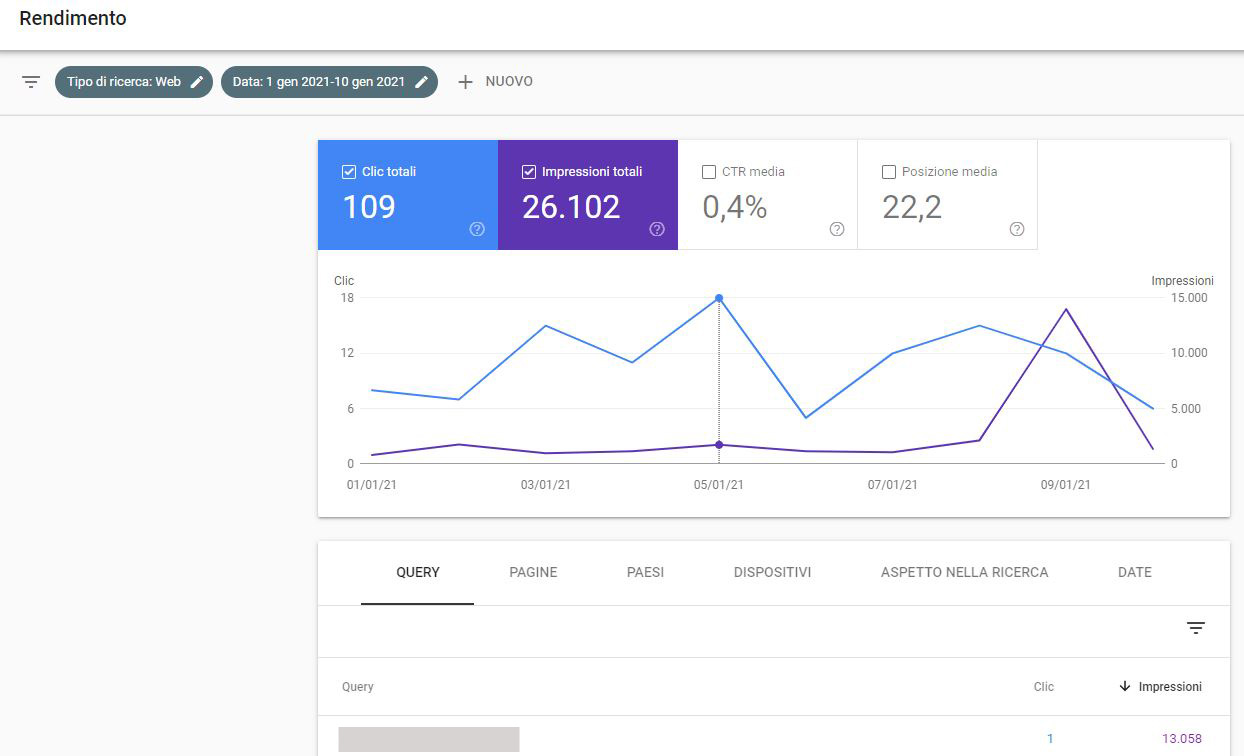 In this case, it would be more correct to exclude this query from our analysis by using the top left filter. Proceed as follows:
Click on the "+ NEW" button

From the drop-down menu select "Query"

Now select "Queries that do not contain" and type "Montalbano"
 Note: by clicking on these buttons it is possible to filter by images / videos / news and / or change the reference period.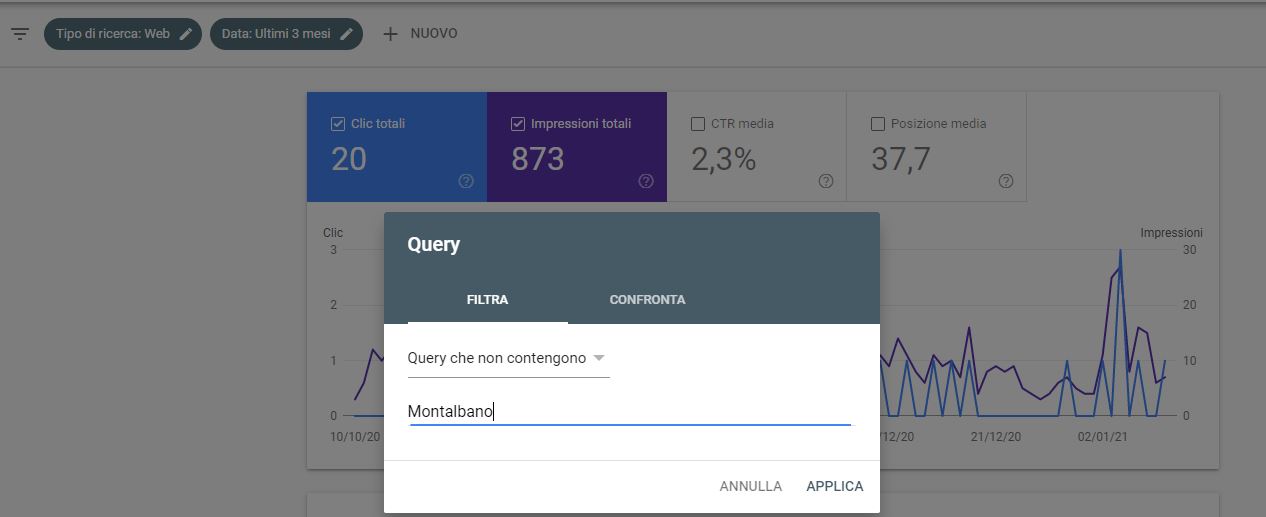 If you use a lot of keywords on your site, you have to pay close attention. For example, I imagine a company that sells many products. In this case, it is easy to get a wrong CTR. The most correct thing would be to use the "Query they contain" filter and analyze word by word, to understand which search queries are NOT getting the desired results and act accordingly. Same thing for the average position. Better to evaluate by query !!!